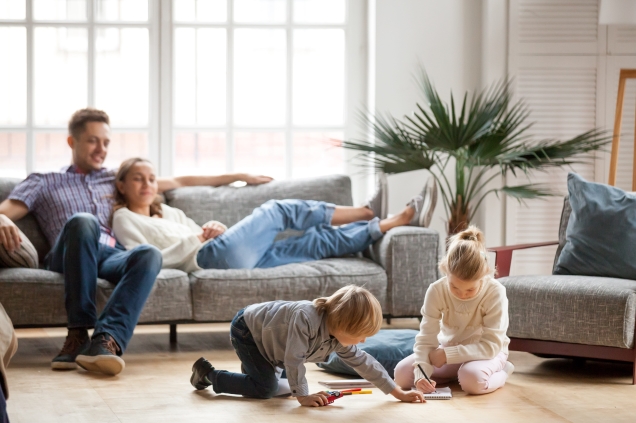 French Bros - Testimonials
Nancy Down

Nesreen, Roberto and team are great! They're incredibly helpful and responsive and their team does fabulous work. Would absolutely use them again and highly recommend!
Karen Lee

We've purchased from French Bros. twice now for two of our bathroom remodels and I would not go anywhere else in SF for my flooring needs. They have a big selection and Nesreen in the SF location is the best - she's very communicative, helpful, and kind. Highly recommend!
Kelvin Quan

French Bros and particularly Nesreen was wonderful to work with. They installed our floor 2 years ago and worked closely and timely with us to replace the flooring after water damage from our neighbors. Nesreen and her staff were patient as we made our selection, asked for several pricing options, and incredibly patient navigating through our homeowners association. Overall, the pricing was great, the service professional and timely, and the flooring attractive and high quality!
Judith Lee

French Bros was recommend by our building's HOA and recently replaced the flooring in our condo. I am glad I went with the HOA's recommendation! Nesreen and Roberto were super helpful and responsive when answering all our questions and explaining our options. We ran into some issues when preparing for the floor installation and another company may have refused the job, but French Bros (especially Nesreen!) was patient and willing to work with us. They made the process a lot easier. The new LVP floors they helped pick out looks great! I definitely recommend French Bros if you are looking for a flooring company.
Sarah Blackburn

We were honestly terrified at the scope and cost of our first major flooring project (replacing an entire floor of 20-year-old wall-to-wall carpet with a cleaner, healthier alternative). If we had known what good hands we'd be in with Nesreen and the team at French Bros., we could have saved ourselves all of that stress. The entire process was 100% smooth and professional from start to finish:

- Communications were always prompt and courteous

- It was fast and easy to schedule a visit from Roberto, who came to our home to provide an estimate for our project

- Roberto and Nesreen were so patient and took the time to explore options and answer our many, many (many!) questions

- Rates were competitive and reasonable, everything as we expected it, no surprises

- Nesreen and the team were very flexible and easily accommodated reasonable changes to the original project scope

- The project managers Deniz and Eddy were obviously seasoned professionals and had the teams running like a machine

- They arrived early (after politely confirming with us, of course), and completed a complex and multi-stage job much more quickly than we expected

- They cleaned up neatly and left us very happy customers We love our new floors! This company is amazing and we highly recommend them.
Christel Heinelt

I can't express the amazing service I received from French Bros from start to finish! I am an Interior Designer & Real Estate Agent. They're worked with me for several months prepping my mother's home to sell after her passing. From ordering carpet for the home and storing the carpet for me until I was ready to have it installed... which I thought was incredible!! "At no charge!" The installation was seamless and incredibly professional. The installers worked tirelessly to get the job done and did an amazing job!!
The new carpet in the lower level of the home really looks beautiful and helped showcase the house when it was put on the market this past March 2023!


As far as Customer Service.. I recommend French Bros 100%. The office manager Nesreen was incredible 👏 to work with. I felt like I was part of the family. They went the extra mile for me during a very big transition in my life.
The product is high quality and the pricing is very fair.


I will be using them again & recommending French Bros to my Colleges & Friends.
Lori Escobar

I want to thank French Bros. Flooring for the outstanding job they did with my interior carpeting. The installers were punctual, efficient and respectful. I was fortunate to work with your employee, Nesreen. She was easy to communicate with and has excellent customer service skills. Nesreen's skills made this project come together. She is a gem. I would use French Bros again for future projects.
Xiomara Ohira

I was looking into redoing my hardwood floors and was conflicted with which direction to go because there were so many options. Nesreen was so patient and very knowledgeable with the different flooring they offered at French Brothers. She gave me samples to take home and try out. She even consulted with the installer on what he would need to give it the best install and finish. Based on my needs and taste, she helped me pick out the perfect flooring for my house. The flooring came out beautiful! I'm very happy with the end result.

Chi-Chi Liang

Working with Ness and the French Bros. Flooring installation team was a pleasure! After several failed attempts at self-selecting samples to match my existing floors (I was replacing my bedroom carpet with hardwood and wanted something that would match, or at minimum, not clash with my existing floors), Ness was the one who recommended the hardwood sample I ultimately selected.


I had requested measurements & quotes from both French Bros. and another flooring company and the other flooring company's quote came in 10% below that of French Bros. I was torn because my experience working with the other company's sales person was pretty horrible - he was all talk, but no action, requiring me to follow up several times to get what I needed (including pointing out that he had quoted me the wrong materials). I messaged Ness letting her know I MUCH preferred giving her my business, but that it was hard to ignore the 10% difference in cost. I didn't expect French Bros. to be able to match the quote, but they did (and even came in a tiny bit lower)!


I live in a large condo building requiring numerous forms and procedures for a hardwood floor installation project and Ness was a total pro. Got me the paperwork I needed right away, was flexible on dates when our originally selected date didn't work for my building, and checked in on me regularly on the days leading up to, and on the day of my installation.


The installation team led by Deniz was impressively fast. I expected the install to take the full day, but it only took them half a day and the end result was stunning! They were polite, professional and helped clean up on their way out. I could not be happier with the end result and the overall experience with French Bros. I highly recommend them to anyone! Thanks Ness, Deniz and the whole French Bros. team!
Patricia Prado

I honestly do not know where to even begin but French Bros is the absolute best. I have worked with Nesreen and Brad for the past 7 years and they are both absolutely Amazing, they treat you like family. French Bros. offers great products and awesome alternatives. The staff is always willing to go the extra mile to make sure you get what you need and to make sure everything is done correctly.


Thank you all for everything always!

Melissa Huang

Nesreen is the absolute best. I had to replace my floor but had no idea what I was doing. Nes was super knowledgeable and welcoming and walked me through every step of the process. She was patient through my decision-making as I pondered different samples but once I decided on one, she was lightning fast in turning around the quote, ordering the product and scheduling the installation flawlessly. She even had all the necessary documents for my HOA ready-to-go. I am so glad I wound up at French Bros and working with Nes, I love my new floors!!
Jeffrey Kremsdorf

I've worked with Nesreen and the French Bros. team on numerous projects and they have always provided upfront competitive pricing, worked with short deadlines, and handled any documentation necessary when working with HOAs. I highly recommend them.
Stephanie Sakai

Great team at French Bros. Everyone I met with was knowledgeable, professional, and friendly. I researched many places and I found French Bros had reasonable prices and I felt they were the most trustworthy. They were highly recommended and I was able to feel confident the job would go smoothly. Roberto was a total pro and Nicole helped to make the installation quick and easy. I'm enjoying the new flooring and look forward to working with them again in the future.
Shareen Fanburg

We are so happy with our new floors!! First, Nesreen in the main office is amazing! We had our family room floors done by French Brothers about 8 years ago and we were very happy then. My husband and I wanted to have our bedroom carpet taken out and laminate floors put in to match our other floors. The day that I called Nes had 2 men out to our house to give us an estimate that same day. We also picked the install date that we wanted and got everything scheduled so quickly. Louis was in charge of our install and he was amazing. He was professional, did a great job and got the job done quickly. We love our floors and love French Brothers. Thanks Nesreen, Louis and team. I highly recommend French Brothers and would use them again if/when we have a need.
Jen Ko

We've been doing a full house remodel, and out of all the vendors I've had to work with so far, Nesreen is by far the best. She is patient and positive with an upbeat can-do attitude. She never makes you feel like a burden for asking questions or expressing concerns, and I actually look forward to my interactions with her instead of feeling like it's a chore. If I ever need to get new carpet again, there's no doubt I'll be going back to French Bros as long as she's there! Thanks Nesreen!! (And yes, my new carpet looks amazing!)
Xinrui Zhou

Nesreen is amazing and provided us the best customer service I have ever had. We have a very short turn around time but she managed to get all my flooring materials delivered in only 5 days!! Would recommend them to all friends and families!
Travis Van Brasch

Nes- is in a word, the BEST.
Organized, polite, well informed, honest, funny and cute. What else could any customer ever ask for?